Help keep this website tidy by reporting broken links, typos, outdated information, or any other issues through this contact form. Much appreciated!
✌️
This is a how to guide for buying and staking $TIME in the Wonderland protocol to earn passive income. Wonderland is one of the most popular forks of the Olympus DAO project on the Avalanche network and aims to become a decentralized VC for crypto projects.
Learn more about staking crypto here.
What is Wonderland?
Wonderland is the first decentralized reserve currency protocol available on the Avalanche Network based on the TIME token.

Each TIME token is backed by a basket of assets (e.g., MIM, TIME-AVAX LP Tokens etc etc) in the Wonderland treasury, giving it an intrinsic value that it cannot fall below.

Wonderland also introduces economic and game-theoretic dynamics into the market through staking and minting.

https://docs.wonderland.money/
What you'll need to follow this guide
MetaMask wallet
$AVAX token
$TIME token
Steps for staking $TIME on Wonderland
1. Create and setup a MetaMask wallet (available as a web browser extension and mobile app).
2. Add the AVAX network to your MetaMask wallet. Go to the AVAX page on CoinGecko and click the little MetaMask fox logo to add the AVAX contract to your wallet.

Optional – You can manually copy/paste the contract details to your wallet following the official how to setup MetaMask with AVAX guide here.
3. Buy some $AVAX from CoinBase or your preferred exchange (Binance and Kucoin are great options too).
If you are buying $AVAX from an exchange other than CoinBase, check to make sure it supports "C-Chain" AVAX transfers. C-Chain network works with MetaMask.
4. Send your purchased $AVAX to the your MetaMask wallet.
5. Swap your $AVAX for $TIME through the exchange TraderJoeXYZ.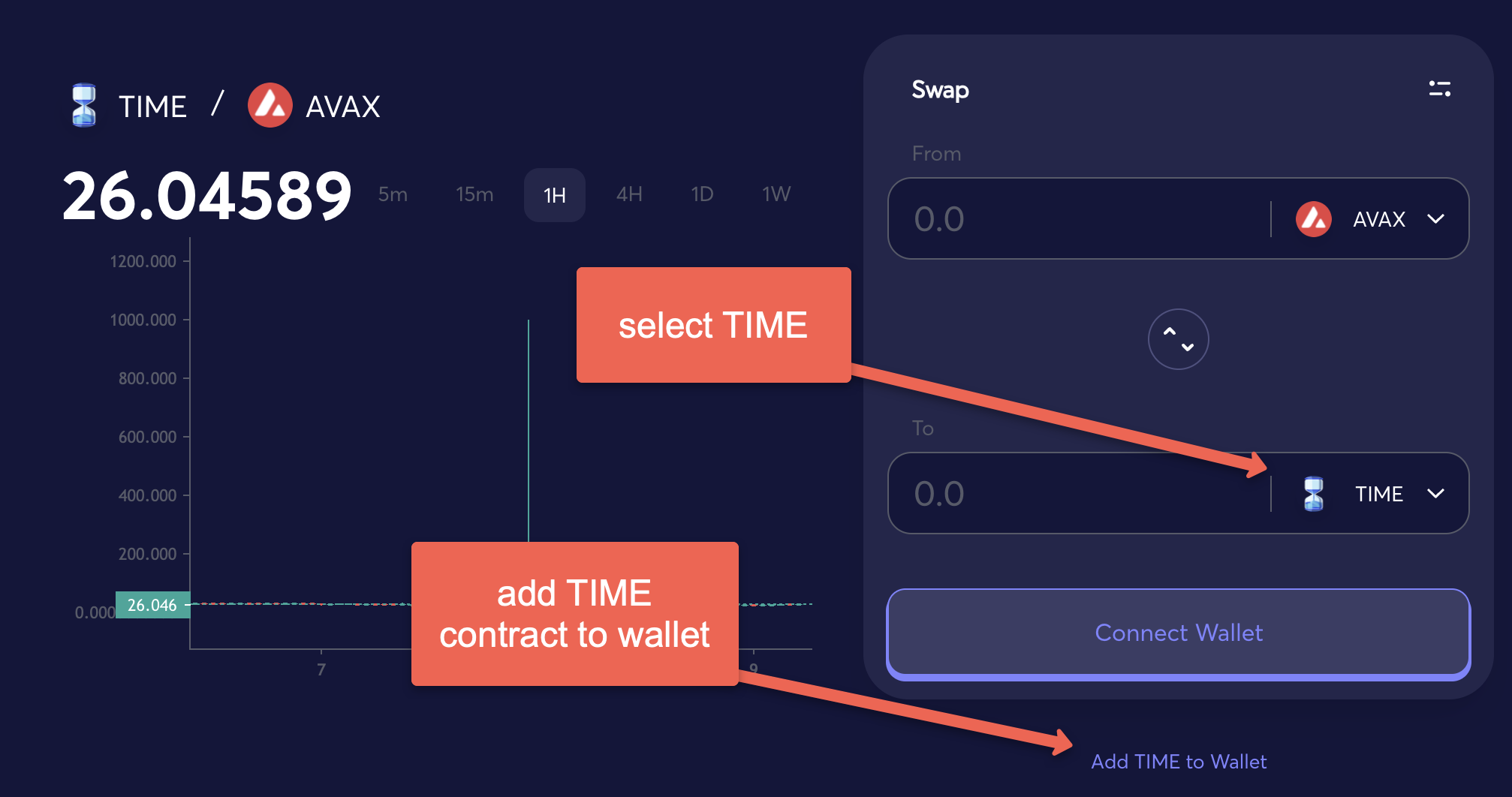 Don't swap all the $AVAX in your wallet. Save at least $20 worth of AVAX for gas fees.
6. Add the $TIME contract to your wallet by clicking the "add TIME to wallet" link on the swap page.
Optional – You can manually add the $TIME contract to your wallet using this address: 0xb54f16fB19478766A268F172C9480f8da1a7c9C3
If $TIME doesn't show in your wallet, make sure you've added the contract address for $TIME and that you are on the AVAX network.
7. Go to the staking page of the Wonderland dApp and connect your wallet. Accept the approval fee to use $TIME in your wallet. Then click the button to stake $TIME. Accept the approval fee to stake.
You should now see a balance for your staked $TIME as $MEMO on the Wonderland app dashboard. $MEMO should also appear in your wallet.
Congratulations, you have successfully staked $TIME.
Additional Wonderland Resources
Official Wonderland Links
Wonderland FAQ
What is the Wonderland RageQuit proposal?
Should you RageQuit Wonderland/TIME?
As you may know, Wonderland has been through a lot of turmoil as the identity of Sifu, Wonderland's treasury manager, was revealed. Sifu's poor reputation caused distrust in the Wonderland project. This resulted in massive sell pressure and the price of wMEMO tanked below the treasury's backing price.
To help make amends, Wonderland offered a proposal for a RageQuit option as an exit strategy for investors to cash out at the treasury's back price. To understand the details of Wonderland, its ragequit option and how they can affect you, read this
Medium article on the ragequit here
.
Exchanges to buy AVAX

Get $10 of Bitcoin free when you buy or sell $100 or more in crypto.
Bonus applied after trading $100 on Coinbase.com

Kucoin

Signup bonus
Large selection of crypto currencies and with low trading fees. KYC-free accounts available.

Get 10% discount on trading fees.
Discount applied with promo code at KuCoin.com