Help keep this website tidy by reporting broken links, typos, outdated information, or any other issues through this contact form. Much appreciated!
✌️
This is a how to guide for buying and staking $OHM in the Olympus protocol to earn passive income. Olympus DAO is one of the most popular DeFi projects off all-time and runs on the Ethereum network. Olympus aims to become the world's first, decentralized reserve currency backed by a treasury owned liquidity.
Learn more about staking crypto here.
What is Olympus DAO?
Olympus is building a community-owned decentralized financial infrastructure to bring more stability and transparency for the world.

https://www.olympusdao.finance/
Olympus is a decentralized reserve currency protocol based on the OHM token. Each OHM token is backed by a basket of assets (e.g. DAI, FRAX) in the Olympus treasury, giving it an intrinsic value that it cannot fall below. Olympus also introduces unique economic and game-theoretic dynamics into the market through staking and bonding. Read more about the game theory aspect of Olympus in one of our blog posts.

https://docs.olympusdao.finance/main/
Quick rundown on how Olympus works:
Bonds & LP fees – Olympus has a Treasury owned that earns revenue through bonds and LP fees. These assets lock in liquidity and help control $OHM supply.
Treasury Growth – As the Olympus Treasury grows, the inflow of revenue increases the treasury balance and helps to back the floor price of outstanding $OHM tokens. This helps regulate staking APY interest rate rewards that are distributed to $OHM token holders.
OHM Tokens – OHM tokens earn interest by means of auto-compounding yields through its treasury backed currency with real-world value.
What you'll need to follow this guide
MetaMask wallet
$ETH token
$OHM token
Steps for staking $OHM on Olympus
Follow these steps for the traditional method of buying and staking OHM. However, it's important to note that you can save a significant amount by avoiding ETH gas fees if you follow this guide to investing in Olympus the easy way instead.
1. Create and setup a MetaMask wallet (available as a web browser extension and mobile app).
2. Buy some $ETH from CoinBase or your preferred exchange (Binance and KuCoin are great options too).
3. Send your purchased $ETH to your MetaMask wallet.
4. Swap your $ETH for $OHM through the exchange SushiSwap.
There will be an approval fee to allow SushiSwap to spend the $ETH in your wallet. There will be another fee for the actual swap. These fees will vary depending on the current price of ETH gas.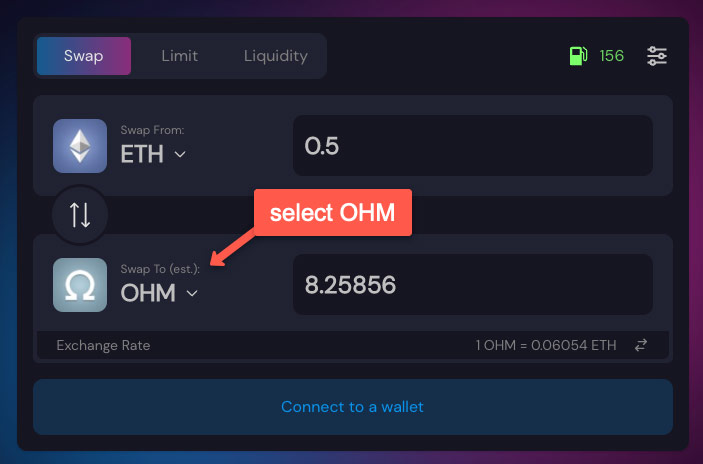 Don't swap all the $ETH in your wallet. Save at least $100 worth of $ETH for gas fees.
5. Add the $OHM (V2) contract address to your wallet: 0x64aa3364F17a4D01c6f1751Fd97C2BD3D7e7f1D5
6. Add the $sOHM (V2) contract address to your wallet: 0x04906695D6D12CF5459975d7C3C03356E4Ccd460
You can find the official Olympus contract addresses here.
7. Go to the staking page of the Olympus dApp and connect your wallet. Enter the amount of $OHM you want to stake or click "max" to stake all the $OHM in your wallet. Approve the staking contract to spend the $OHM in your wallet. Then click the button to stake your $OHM.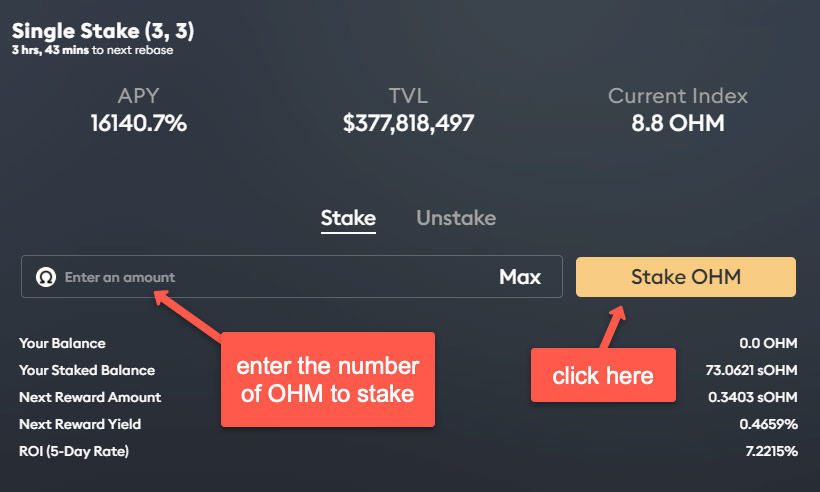 Note – If this is your first time staking $OHM, you will have to pay a one-time staking approval fee. Any time you stake after that, you will only have to pay the gas fee to cover the staking transaction.
You should now see a balance for your staked $OHM as the receipt token $sOHM on the dashboard and in your wallet.
Congratulations, you have successfully staked $OHM.
If $OHM or $sOHM doesn't show in your wallet, make sure you've added the correct contract addresses and that you are on the ETH mainnet network.
Note – OHM recently rolled out the V2 protocol. Any $OHM that is purchased and staked should be the V2 token (not the V1 token). If you are holding $OHM or $sOHM V1, you will need to migrate to $gOHM for V2.
Additional Olympus DAO Resources
Current Token Prices
Exchanges to buy ETH (Ethereum)

Get $10 of Bitcoin free when you buy or sell $100 or more in crypto.
Bonus applied after trading $100 on Coinbase.com

Kucoin

Signup bonus
Large selection of crypto currencies and with low trading fees. KYC-free accounts available.

Get 10% discount on trading fees.
Discount applied with promo code at KuCoin.com