Newb Resources
Here's a list of useful resources for the newbie crypto investor.
Popular Crypto Exchanges
Centralized Exchanges (CEX)
Popular centralized exchanges for U.S. based customers. Exchanges help you on-ramp your $ USD currency into cryptocurrencies so you can start trading tokens and transacting on a blockchain.

The quick and easy way to buy, sell, and secure
the most popular crypto currencies like Bitcoin, Ethereum, and Avalanche. Coinbase is the most trusted and secure exchange in the U.S.

Get $10 of Bitcoin FREE  when you make your 1st crypto trade.

One of the world's largest exchanges for U.S. based customers. Trade over 50 crypto currencies and alt-coins at competitively low trade fees. Uses a tiered pricing structure according to trading volume and holdings. Get BIG discounts on trading fees for holding the exchange's native $BNB token.

Kucoin

signup bonus
One of the world's leading cryptocurrency exchanges by number of users and average daily trading volume. Accepts users from over 100 countries. KuCoin has a large selection of crypto currencies with low trading fees. Non-KYC accounts available. Unlock more features for verifying your account.

Get 10% discount on trading fees.
Discount applied with promo code at KuCoin.com
You can withdraw your cryptocurrencies out of these changes into a MetaMask wallet to start transacting with protocols and Dapps on different blockchains. Once your funds are in your MetaMask wallet, you'll want to start swapping for coins on DEXs that aren't available on the CEXs.
Decentralized Exchanges (DEX)
Here's some popular DEXs for swapping alt coins on different networks:
Crypto Wallets
Digital wallets (FREE)
Hardware wallets and cold storage
What are they? Learn about hardware wallets here.

Ledger is the most widely recognized hardware wallet and cold storage device manufacturer. Works seamlessly with MetaMask wallet to secure your private keys.
Blockchain Explorers
Tracking Crypto Wallets and Token Prices
Basic crypto tracking and coin info
Use services like GoinGecko and CoinMarketCap to track your crypto portfolio and make watchlists to keep an eye on coin market prices all-in-one place.
They're also great resources for learning about different coins, finding their protocol contract addresses to add to your MetaMask wallet, and finding the exchanges where you can swap/buy tokens on different blockchains.
You can track multiple wallet and account addresses across blockchains with ease, all-in-one place using services like Zapper.fi or Debank.
Crypto taxes and portfolio tracking
Tracking all your crypto transactions, gains and losses is a headache. Many people are completely lost in keeping good records.
Services like Koinly are great for tracking your crypto to keep things organized for doing your taxes.
Koinly simplifies preparing your crypto taxes by working like an intelligent spreadsheet. Easily track your crypto transactions across wallets to easily generate capital gains and income tax reports.
Crypto & Investing Education
Crypto Alpha Access Discord
Want to accelerate your learning for investing in crypto?
Learn from knowledgable crypto and NFT trading pros. They keep their finger on the pulse of every HOT crypto play in the private Alpha Access discord server.
The Alpha Access discord is a fantastic way to stay in the loop of the latest trends in crypto.
Learn the hottest NFT collections, learn about new alt-coins before they pop off (many members regularly getting 2-10x gains), and many invaluable – absolute FIRE – alpha knowledge.
Benefit from the groups collective knowledge, research, and experiences. The mods host weekly live streams where you can get all your questions answered live on-air.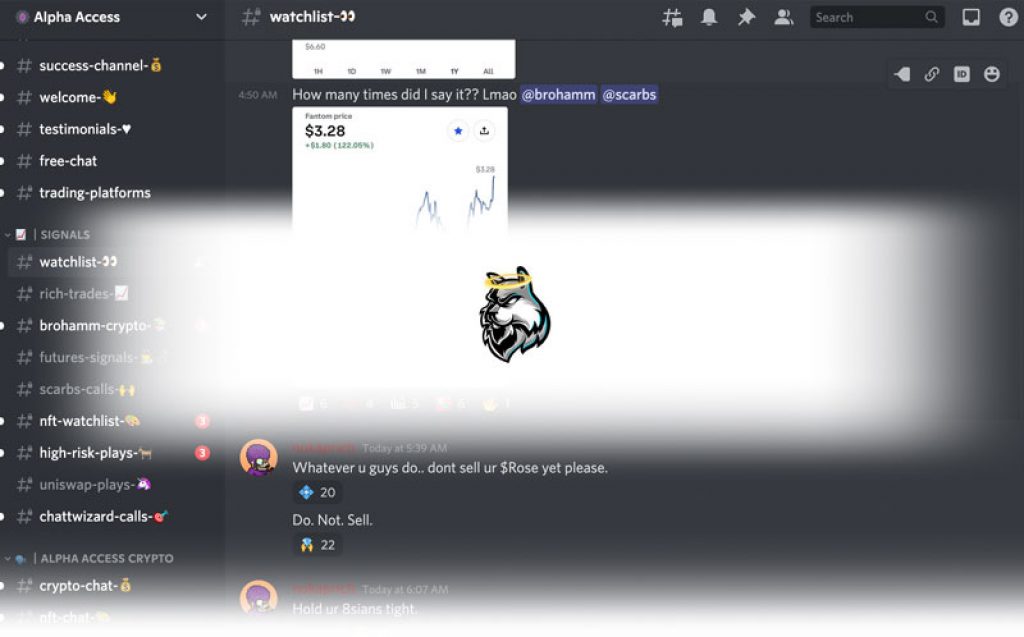 Join the private Alpha Access discord group to accelerate your crypto knowledge. Learn all the right money making plays from the private watchlist and live streams.
Monthly membership currently $100/month.
The discord mods offer additional FREE and paid 1-on-1 portfolio advice and the community frequently shares screenshots their gains and what plays are actually winning.
Plus, get the added benefit of networking with over 1000 like-minded members hungry to crush it in crypto.
Monthly membership currently $100/month.
Join Alpha Access Discord today.
Investing Books & Money Psychology
While these books don't directly cover investing in crypto, what they do provide is solid foundational knowledge of investing. This is a great way to learn how to think smart about your money, your spending, and ultimately your financial future.
Reading these books will help you develop solid investing principles and develop good habits. You'll learn how to keep your costs low, your taxes in check, and minimize risks so you don't completely fuck yourself.
This reading is packed with tons of other useful information so that you start off in the right direction. I'm glad I read all of these books before I put a dime of my money in the market. These have had a huge influence on the way that I think about money.
Before you even touch crypto, you should have some understanding of investing and finances – at least the basics.
It's important to understand the psychology of money and your financial behavior so you that you can be smart with your money.
Here's a few books I highly recommend (available on Amazon):
Additional Resources
Crypto Leaders to Follow on Twitter