Help keep this website tidy by reporting broken links, typos, outdated information, or any other issues through this contact form. Much appreciated!
✌️
This is a how to guide for buying $MRI token on Ethereum.
MRI is a new cryptocurrency, low-cap meme coin that is supporting MMA fighters in the UFC.
What is Marshall Rogan INU / $MRI?
"Marshall Rogan Inu ($MRI) is pushing to pay fighters with a bonus on top of their usual paycheck, although these fighters are professionals, many of them are still not in the best of financial positions. Our aim as a community is to help these fighters from a financial standpoint and spread awareness of the hardship every single one of them treads through to reach the point they are at today."

Source: MRI team on Medium
What you'll need to follow this guide
MetaMask wallet
$ETH token
Uniswap DEX
Steps for buying $MRI with $ETH
1. Create and setup a MetaMask wallet (available as a web browser extension and mobile app).
2. MetaMask comes with ETH network added to the wallet by default. If you have multiple networks added to your wallet, make sure you select ETH.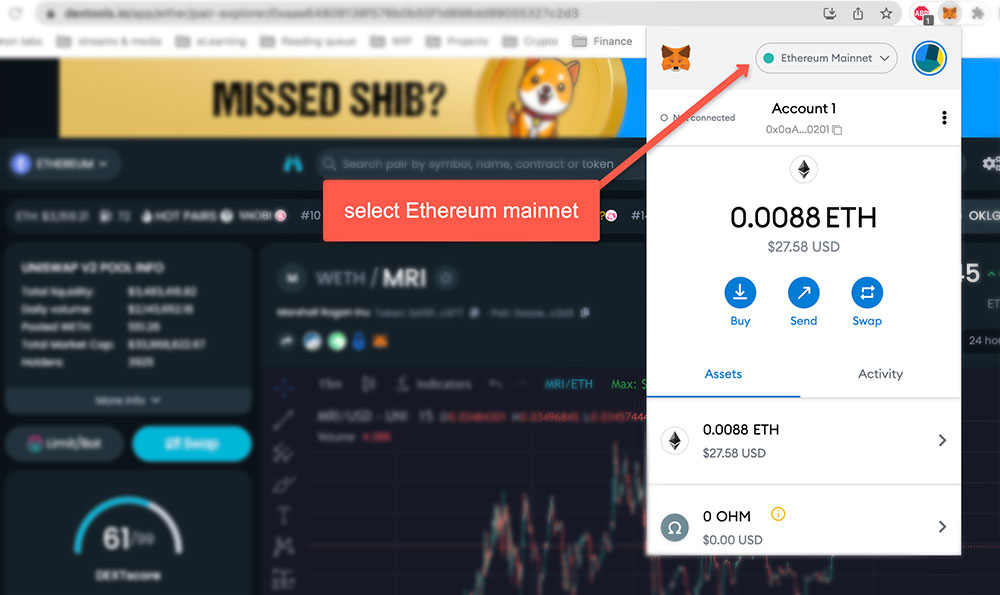 3. Buy some $ETH from CoinBase or your preferred exchange (see other exchange options here).
4. Send your purchased $ETH to the your MetaMask wallet.
5. Swap your $ETH for $MRI through the exchange Uniswap. Go to the $MRI token on Uniswap here.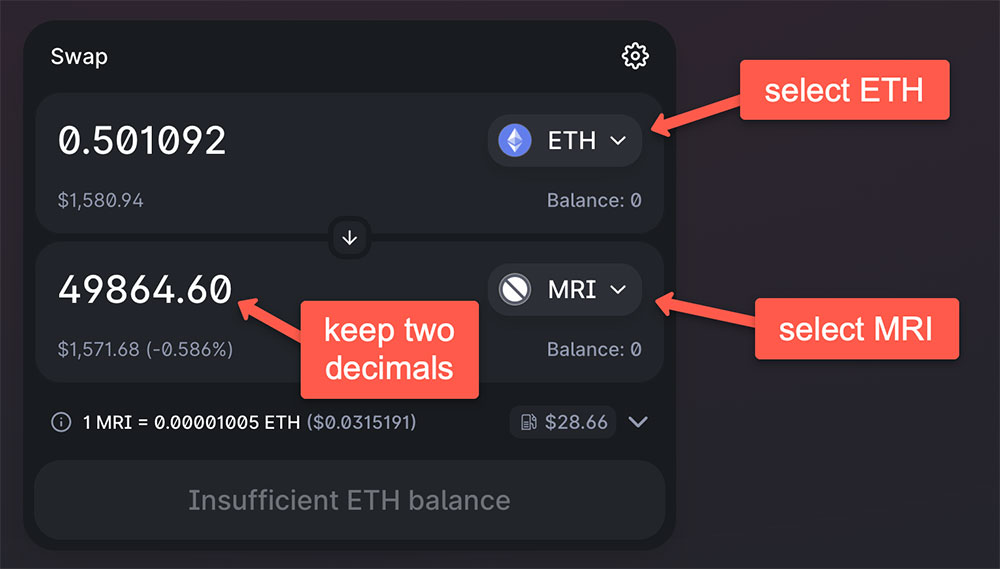 You will need to connect your wallet to Uniswap and make an approval transaction.
Enter the amount of $ETH you want to swap for $MRI. Make sure there's at least two decimals for the MRI amount you're swapping to. For example, enter "8000.00" MRI instead of simply "8000".
Set slippage tolerance greater than 15% to ensure your transaction goes through. Due to high volatility, a typical slippage rate might cause a transaction to revert.
Keep API router turned off.
Don't swap all the $ETH in your wallet. Save at least $30-40 worth of ETH for gas fees.
6. Add the $MRI contract to your wallet by clicking the "add MRI to wallet" link on the swap page.
Optional – You can manually add the $MRI contract to your wallet using this address: 0x0913ddae242839f8995c0375493f9a1a3bddc977
If $MRI doesn't show in your wallet, make sure you've added the contract address for $MRI and that you are on the ETH network.
You should now see a balance for your $MRI in your wallet.
Congratulations, you have successfully bought $MRI.
Additional Marshall Rogain Inu Resources
MRI Links
Videos on MRI
Here's a great beginner video on the whole process of buying $MRI from A-Z:
And here's a video with an interesting bullish outlook on $MRI:
What are you thoughts on $MRI? Do you think it's worth buying? Share your thoughts in the comments below.
Exchanges to buy ETH

Get $10 of Bitcoin free when you buy or sell $100 or more in crypto.
Bonus applied after trading $100 on Coinbase.com

Kucoin

Signup bonus
Large selection of crypto currencies and with low trading fees. KYC-free accounts available.

Get 10% discount on trading fees.
Discount applied with promo code at KuCoin.com