Help keep this website tidy by reporting broken links, typos, outdated information, or any other issues through this contact form. Much appreciated!
✌️
In order to start participating in cryptocurrency trading, you first need to get your cash into a crypto exchange.
Once your money is deposited into an exchange, you can then start buying cryptocurrency which includes tokens like Bitcoin, Ethereum, AVAX, stablecoins, and other digital assets. Or you can start using crypto for things like making purchases and sending tokens to friends and family.
When you get more experienced, you can start doing some interesting things like moving your crypto out into the wild west of different blockchains. This requires setting up a wallet and taking full control of your own funds. Once you've crossed that bridge, you'll discover the massive sphere of DeFi and Web3.
But for now, let's just stick to the basics and turn some of your fiat cash into your first crypto purchase.
On-ramp your fiat to crypto
The quickest way to buy your first cryptocurrency is by using a central exchange.
In the crypto space, people commonly refer to this process as "on-ramping" your fiat currency (your native currency or cash money) into cryptocurrency tokens.
The easiest way to on-ramp your fiat money is to join an exchange like Coinbase.
While Coinbase isn't the cheapest exchange around, it's definitely one of the most user-friendly platforms.
Getting started with Coinbase is really simple and takes just a few minutes to setup.
Overview of the process to buy crypto
Here's a basic overview of the process:
Create Coinbase account
Connect your bank account
Deposit cash into your Coinbase account
Start buying crypto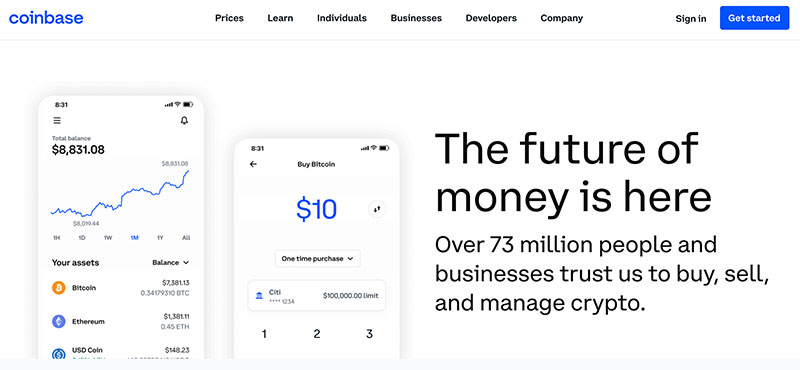 Why Coinbase is a great place to start
Here's a few reasons why Coinbase is great for beginners:
simple signup process
user-friendly interface (app available for android and iphone)
secure central exchange based in the U.S.
use as your digital wallet for storing, sending and receiving funds
funds protected by theft insurance
access to a wide variety of cryptos
publicly traded company
learn about crypto and take quizzes to earn free tokens
$10 free Bitcoin signup bonus
Steps to on-ramp your cash with Coinbase
Sign up for a Coinbase account here (takes just a few minutes and you'll be rewarded with $10 of Bitcoin when you make your first $100 trade).
Link your bank account.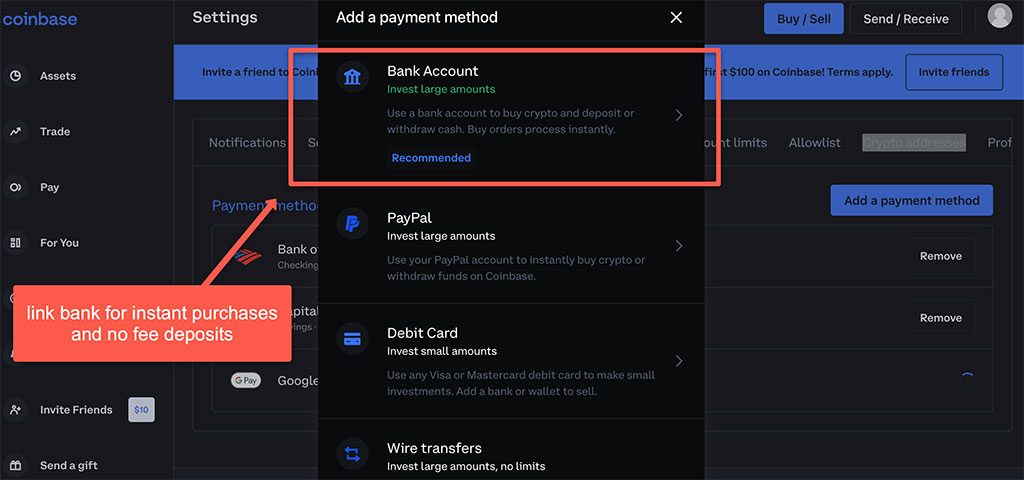 Initiate an ACH transfer to deposit your funds from your bank account to your USD wallet on Coinbase.
The funds will be available in your account for trading immediately.
Select the crypto you want to buy, then initiate a trade.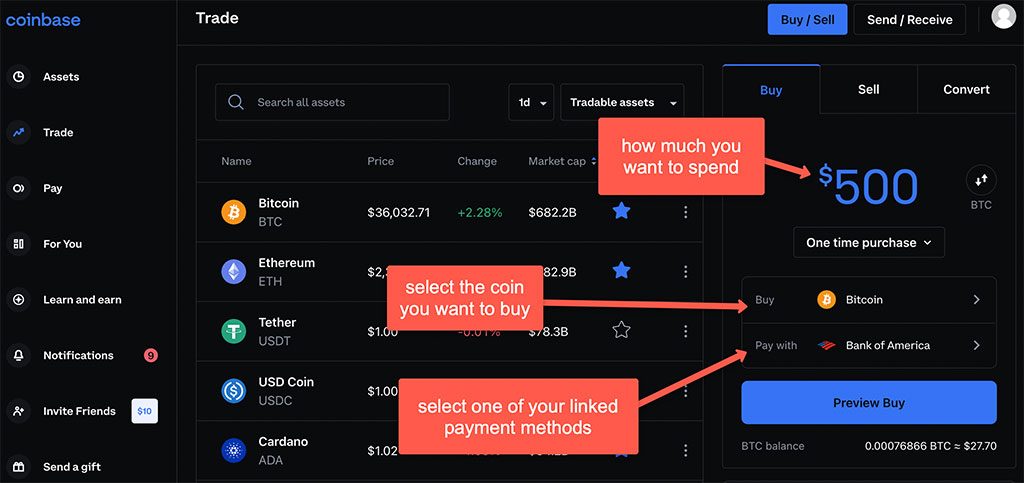 How is Coinbase safe?
One of biggest risks in crypto is undoubtedly cyber-attacks.
Major central exchanges, like Coinbase, are a big target for hackers because they store a HUGE amount of digital assets deposited by its large customer base.
Because of this, Coinbase has crime insurance to protect its customers funds against any loss from theft and cyber-attacks. This funds are secured in Coinbase's custody.
A portion of customer funds are also held in pooled accounts and secured at banks that are FDIC-insured.
Learn more about how funds are secured with Coinbase here.
How to choose your first cryptocurrency
I'm not here to give financial advice, so you should do your own research!
But to give you some ideas, I stay far away from memecoins like $DOGE and $SHIB.
I'm interested in tokens with real world utility and that support crypto infrastructure like native tokens of blockchains that are fast, efficient, and have low gas fees.
Of course there's many other considerations and everyone has their own strategy.
CoinMarketCap and GoinGecko are great sites with lots of top level information on different coins, blockchains, and protocols to start you research. Expect this to lead you down many blackholes of research!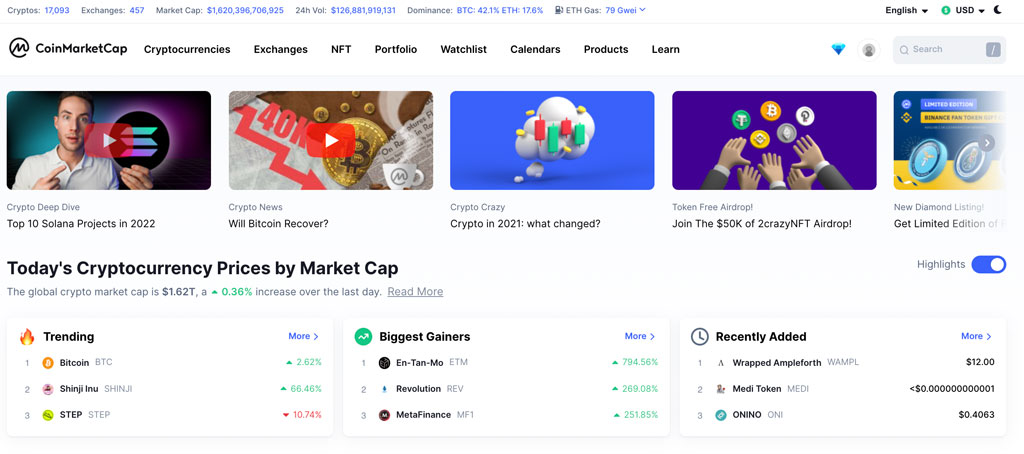 I will update this over time with some coins I'm bullish on and the projects you can use them with. You can also get some deas on what coins to by looking at some popular projects covered in these how to guides.
More on this to come. Stay tuned!
Other considerations
Learn the basics first and keep your emotions in check – Before you start investing in crypto, you should have a basic understanding of investing and the psychology of money. Crypto moves fast and it never sleeps. Unlike the stock market, you can trade crypto 24/7. It can get addicting and you can easily gamble away your money like a Vegas casino. Educate yourself first. Check out the Newb Resources section for book recommendations on this.
Consider other exchanges only when you're ready – Coinbase has higher trading fees than most other central exchanges. But again, their platform is straight-forward and easy to use. It's better to start out simple and slow. Move on to other platforms with more advanced trading features when you're ready. See the list of other exchanges where you can on-ramp your fiat currency below.
Exchanges to on-ramp fiat currency

Get $10 of Bitcoin free when you buy or sell $100 or more in crypto.
Bonus applied after trading $100 on Coinbase.com

Kucoin

Signup bonus
Large selection of crypto currencies and with low trading fees. KYC-free accounts available.

Get 10% discount on trading fees.
Discount applied with promo code at KuCoin.com